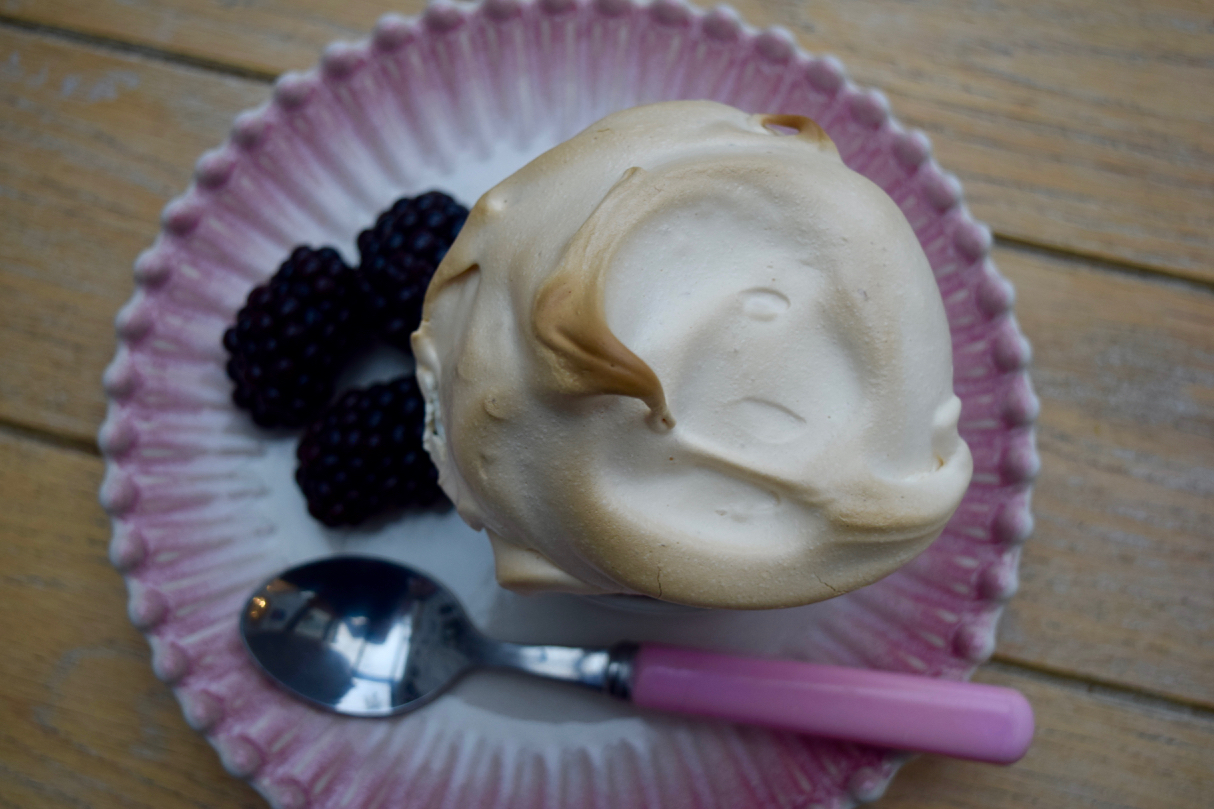 Apple and Blackberry Snow Recipe
I am in the minority of people who loved their school meals. I have hugely fond memories of chicken in white sauce, an odd goulash with macaroni and rice pudding. I had a particular penchant for stewed apple and custard, so when the nights draw in I get quite the craving for hot fruit based desserts. Apple and Blackberry Snow is a vintage classic with more than a hint of shabby chic to it, but it's well worth the trip down memory lane.
I like to think of this pud as a lighter option, although I may be kidding myself. It's 75% fruit 25% meringue and 0% stodge. The apple and blackberry are sharp, soft and rich. The piled meringue topping is crisp but marshmallow-like in the middle and did I mention super simple to make. This is basically just cooked fruit with a big blog of meringue. I added the blackberries for colour and seasonal charm, but you could add blueberries, raspberries or whatever you can find on a fridge forage. A big thank you to Olive Magazine for the inspiration for this.
Simple pleasures; autumn fruits and putting a jumper on because it's chillier in the evenings. Apple and Blackberry Snow is simple, elegant and delicious, cardigan optional.
This post will feature on Lucy Loves later this week.
Apple and Blackberry Snow Recipe
Makes 4
You will need a stand mixer or hand whisk for this
2 good sized Bramley or cooking apples
12 blackberries, about 100g
40g butter
140g caster sugar
2 eggs, separated
1/2 teaspoon vanilla extract
Cream to serve, if you like
Pre-heat your oven to 160 degrees fan assisted and butter four 100ml capacity ramekins.
Peel, core and chop your apples and add to a medium sized saucepan. Add 20g of the caster sugar and the 40g of butter and put onto the stove over a low heat. Cook for 10 to 15 minutes or until softened but still holding a bit of shape. Keep stirring so they don't catch on the bottom of the pan. Pop to one side to cool a little.
For the meringue top, seperate the two eggs putting the whites into a bowl or the bowl of your stand mixer, keep the yolks for the apple. Whisk until they hold stiff peaks then spoon in the sugar one tablespoon at a time, whisking until the mixture is firm and glossy and when you rub it between your fingers you can no longer feel grainy sugar. Whisk in the vanilla.
Take the two eggs yolks and stir them through the apple mixture then spoon this into the four ramekins. Press 3 blackberries into each ramekin then top, generously, with the meringue.
Place onto a baking tray then cook for around 15 minutes or until the meringue is golden and crisp and the apple is bubbling. Serve piping hot, although I have to say I ate one cold and it was still really good.