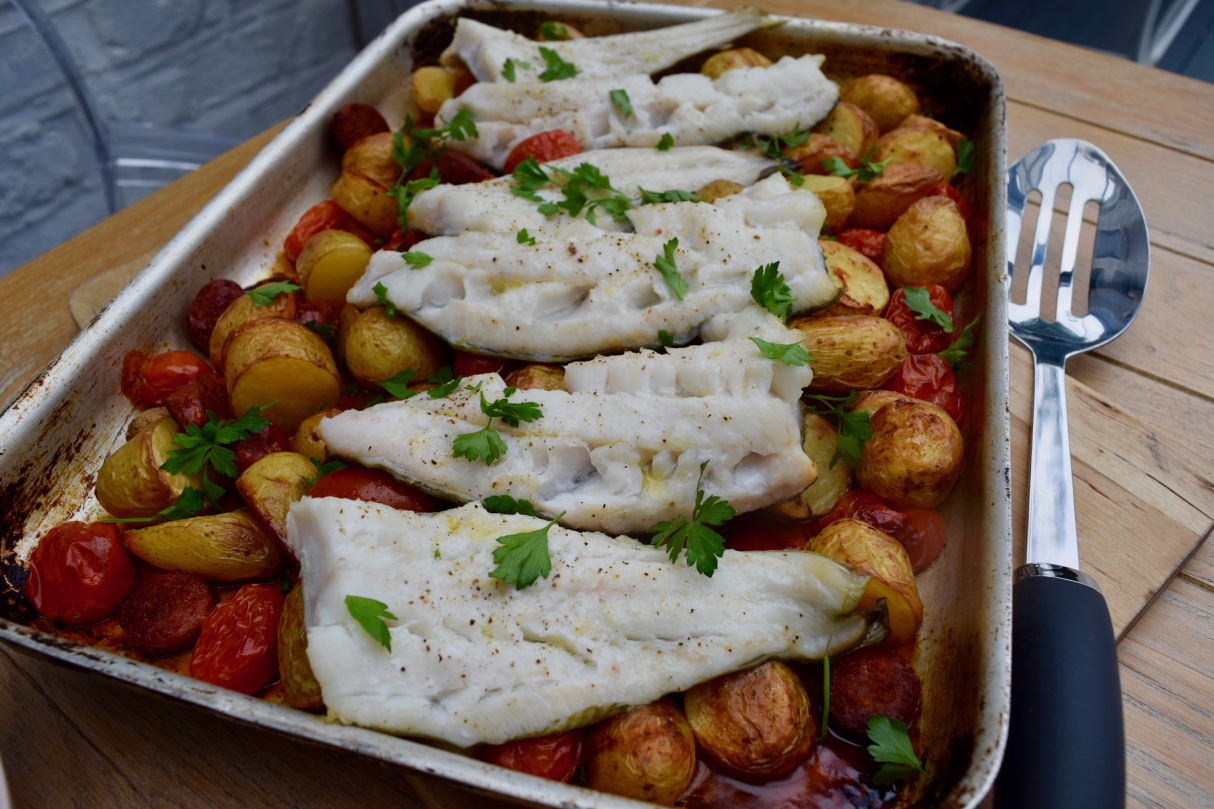 This Cod with Chorizo and Chimichurri is the sort of dish I dream about. When I get recipe ideas in my head I get slightly obsessed and start to bore myself thinking about how it will work. I knew what I wanted to be included in this delicious one pot dish, but felt it was lacking something. This is where the chimichurri stepped in. This fresh herb and chilli based drizzle makes an autumnal family supper into an amazing, wholesome meal. Even if I do say so myself.
Fish and Chorizo are wonderful bedfellows. One is light and delicate the other is spicy with an enormous set of balls. Mix these with filling potatoes and the sweetness of cherry plum tomatoes and this is a simple recipe with most of the food groups represented. And in under an hour with only chopping by way of preparation. I'm all for simplicity as I spend so much time in the bloody kitchen and I expect you feel the same. As with a lot of my musings, you can add or remove at your leisure. Throw in some sliced red peppers when you add the chorizo or replace the tomatoes with black olives if your family, like Clyde, are tomato phobic.
As I spent a good deal of time dreaming up this beyond tasty Cod with Chorizo and Chimichurri, I think the least you can do it make it. No pressure, but at least pretend to appreciate my efforts *needy*.
This recipe will feature on Lucy Loves later this week.
Cod with Chorizo and Chimichurri recipe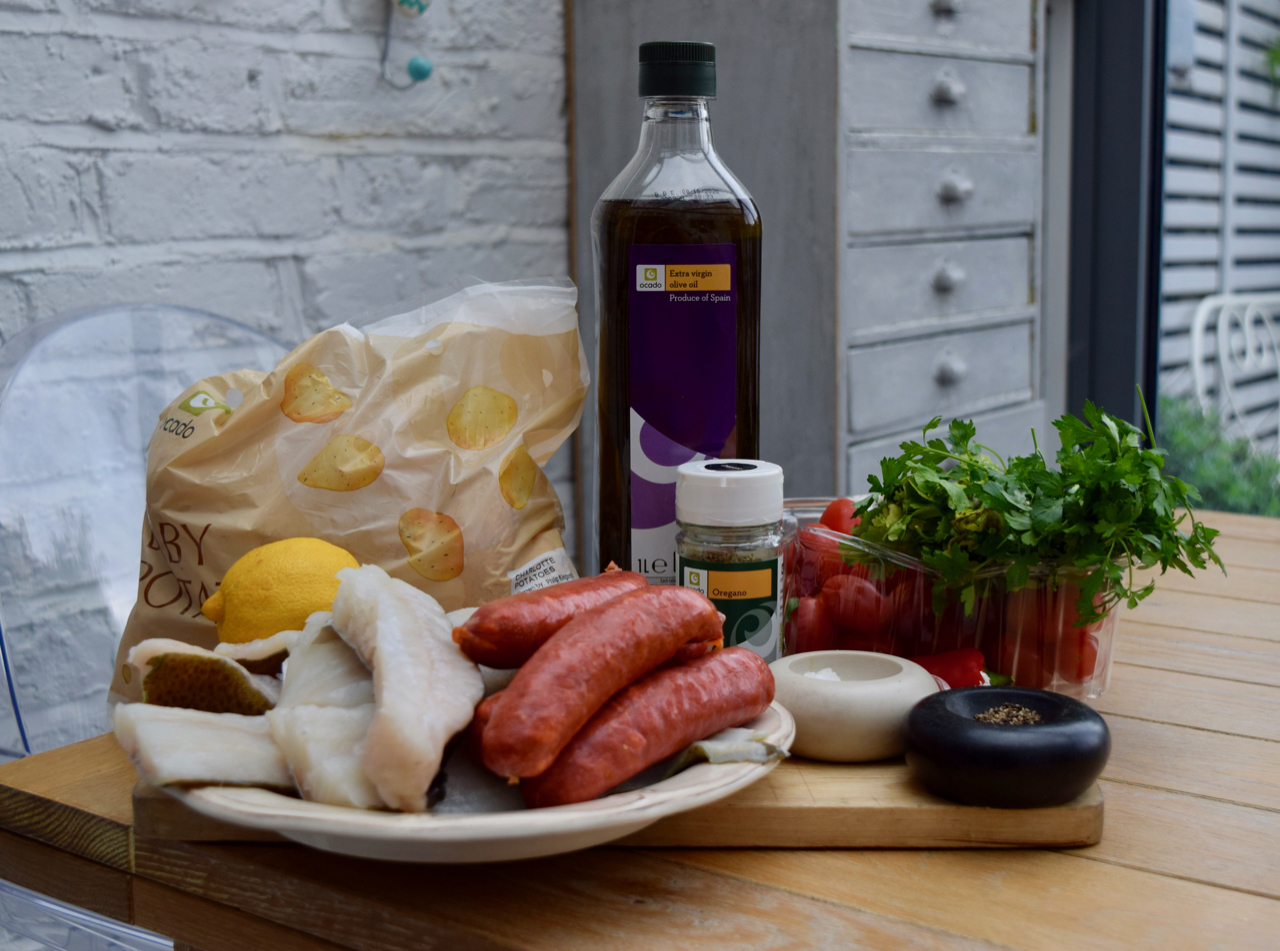 Serves 4, generously
You will just need a large baking tray and a small chopper or blender
Fish
750g new potatoes, halved
2 tablespoons olive oil
250g chorizo, sliced
250g cherry tomatoes, plum ones are lovely
600g to 700g cod, or any other firm white fish, cut into 4 or 6 good sized portions
Splash more olive oil
Generous amounts salt and pepper
Chimichurri
20g fresh parsley
20g fresh coriander
1 teaspoon dried oregano
1 large clove garlic, or use lazy garlic from a jar
1/2 red chilli, deseeded
Juice half a lemon
3 tablespoons olive oil
3 tablespoons water
Salt and pepper
More fresh parsley to garnish, green vegetable or salad to serve, if you like
Pre heat your oven to 170 degrees fan assisted.
Chop your new potatoes in half, or don't bother if they're small. Take a large baking tray and add the chopped potatoes and toss in the 2 tablespoons of olive oil. Season well. Put in the oven for 15 minutes.
After 15 minutes, add the sliced chorizo, mix into the potatoes then put back into the oven for a further 15 minutes.
While this is cooking make the Chimichurri. Add the parsley, coriander, oregano, garlic, chilli, lemon juice. olive oil and water to a small chopper or blender and blitz until blended. Season to taste. If you don't have a chopping gadget, do this by hand. Pour into a jug and pop to one side until needed.
Take the potatoes and chorizo out of the oven for a final time and mix in the cherry tomatoes. Lay your fish on top of the potato combo, drizzle with olive oil, season well and pop back into the oven for a final 15 minutes or until the fish is firm and cooked through and the potatoes and chorizo are golden and sizzling.
Serve strewn with fresh parsley and drizzled with the chimichurri whilst piping hot. Any spare chimichurri will keep in the fridge to drizzle on anything you fancy for a week or so.