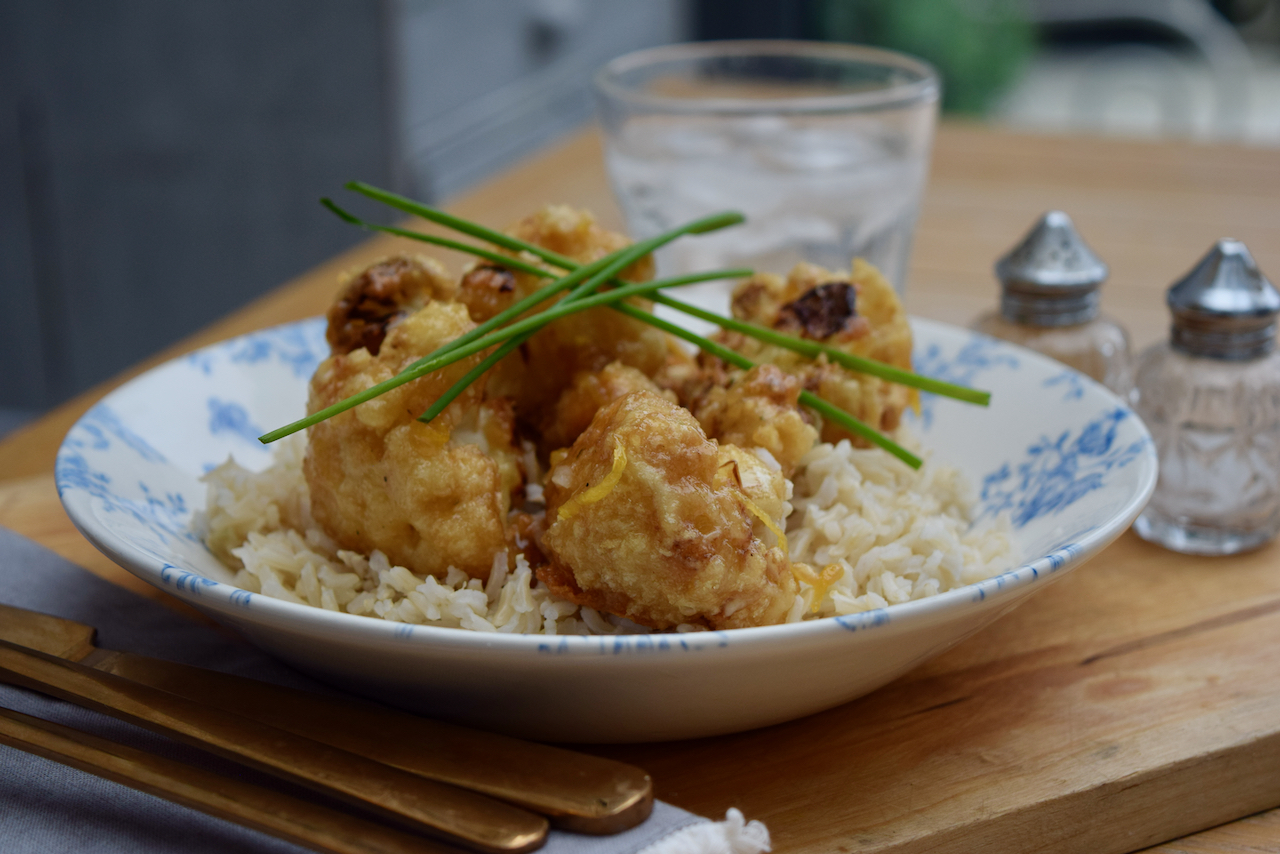 Crispy Cauliflower with Lemon Sauce Recipe
As I write, the Christmas tree's down, presents have been put away and there's only two tubs of Celebrations left to be eaten. I am clutching a glass of wine with the prospect of not having another until, at best, Thursday and feeling, frankly, deflated. I know I'm not alone feeling like this, and it will pass after 10 minutes in the office tomorrow, so now I am moving forward. This Crispy Cauliflower with Lemon Sauce recipe is so positive, vibrant you can't help but feel enthused by it.
I am a huge fan of saying no to all the New Year New Me nonsense. It is nonsense, although I do have to stop wanting a gin and tonic at 11am and eating chocolate for breakfast. Life is all about the tiny victories and this Crispy Cauliflower with Lemon Sauce is just one of those. It's plant based so if you are doing Veganuary or at least trying to reduce your meat intake, this is the one for you. The cauliflower is lightly coated in a batter flavoured with sesame oil and then given a sprinkling of panko crumbs. Instead of frying this in buckets of oil, it's baked until crisp then coated in a slightly sweet and sour lemon sauce. This January treat has a hint of takeaway favourite but with none of the oil and gloop. I owe a big thank you to Chocolate Covered Katie for the recipe inspiration.
Crispy Cauliflower with Lemon Sauce is the lift you need this week. As we stumble into 2020, I am going to try to be a better version of me this year. One tiny victory at a time.
This recipe will feature on Lucy Loves later this week.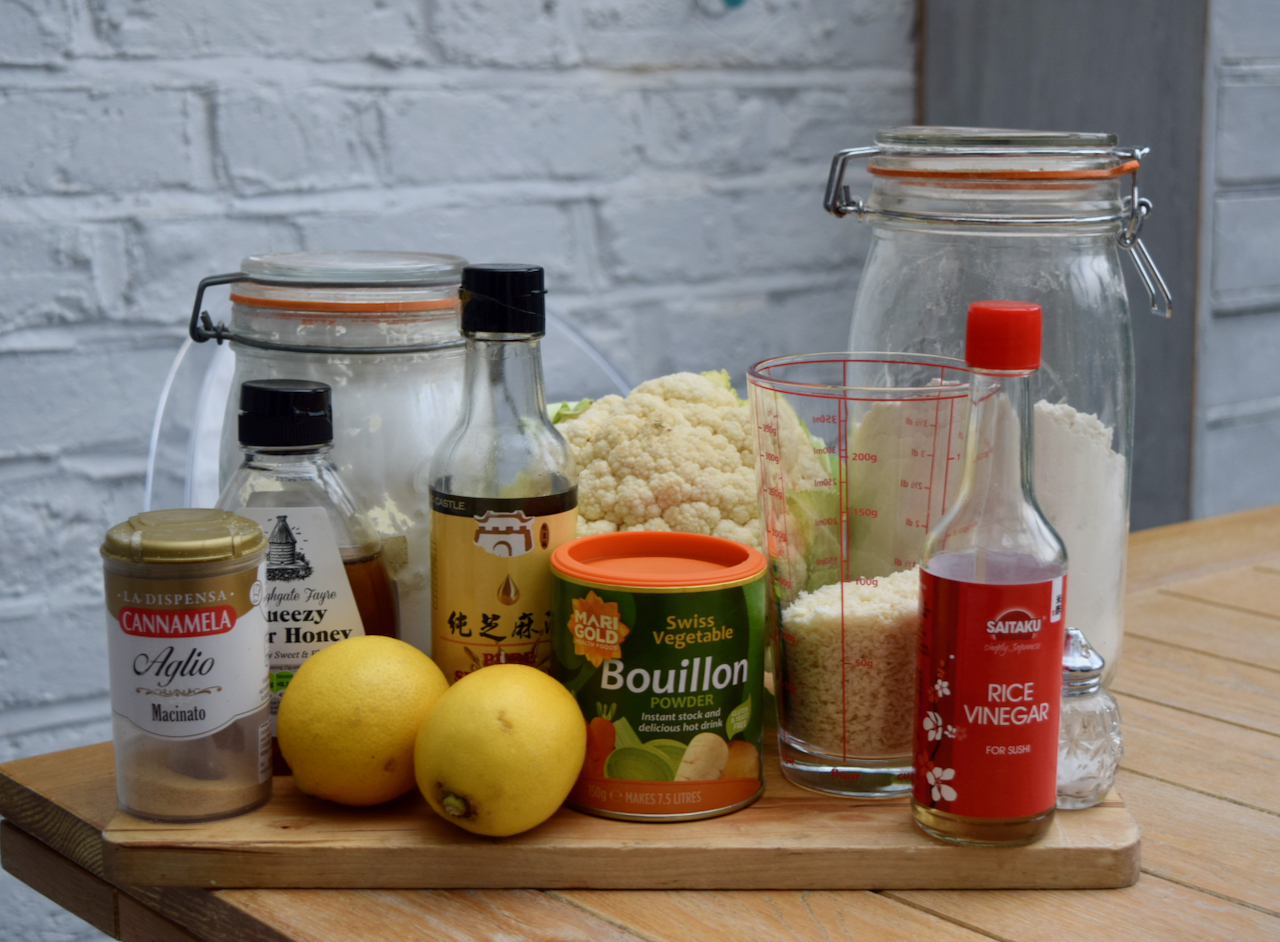 Crispy Cauliflower with Lemon Sauce Recipe
You won't need any exciting equipment for this
Cauliflower
1 small cauliflower or half a big one
60ml milk, use nut milk for vegans
35g plain flour
40g panko breadcrumbs
1 teaspoon sesame oil
Salt and pepper
A drizzle more sesame oil
Lemon Sauce
120ml vegetable stock
4 tablespoons lemon juice
4 tablespoons honey or maple syrup
2 tablespoons rice vinegar or apple cider vinegar
2 cloves garlic crushed or 1 teaspoon lazy garlic or 1 heaped teaspoon garlic granules
Zest of a lemon
Salt and pepper
2 teaspoons cornflour
Soy sauce to taste, around a tablespoon
Brown rice and something green to serve
Pre heat your oven to 170 degrees fan assisted and line a large baking sheet.
Remove the stalks from the cauliflower and cut into florets. Take a large bowl and whisk together the flour, milk and sesame oil until smooth. Stir in the cauliflower florets until coated. Place the florets onto the lined baking sheet. Tip over the panko and toss to coat. Drizzle with a couple more teaspoons of sesame oil and season with salt and pepper. Place into the oven for around 30 to 35 minutes or until crisp and just golden.
While the cauliflower bakes, make the lemon sauce. In a large jug, mix together the vegetable stock, lemon juice, honey, vinegar, garlic and lemon zest. Remove 2 tablespoons and mix with the 2 teaspoons of cornflour until smooth.
Pour the lemon sauce mix into a large pan and bring up to the simmer. Whisk in the cornflour mixture and stir until thickened. Taste and season with some soy sauce, around a tablespoon should be fine.
Remove the crispy cauliflower from the oven and add the florets to the hot lemon sauce. Toss to coat then serve, piping hot, with some rice and a green vegetable for extra vitamins.