Being at home with my family for 9 and a bit months has been a learning curve. Not always a good curve, but a learning one. Things I have learned are a) wow 3 men and a dog eat a lot b) 5 meals a day is a thing when you're a 22 year old boy c) I have a short temper and d) drinking every evening is acceptable to appease aforementioned short temper. I have exhausted all my best recipes during the numerous lockdowns so have been on a snaffle for something new, simple and good value. This Honey and Soy One Pot Chicken is all of the above, and more.
Chicken thighs are a total godsend when it comes to feeding the 5000 *Clyde and the boys*. They're great value, bone in or bone out, and they are by far the tastiest option for me when chicken's called for. In this Honey and Soy One Pot Chicken it's a bone in situation. I've allowed for 2 per person, but they were big old thighs, you may need more if yours are smaller. They're marinated in soy, honey, with a touch of sesame oil and rice wine vinegar, all my favourites, then baked in the pan with the rice for a one pot supper dream. The chicken is flavourful and tender and the rice is tasty with some wonderful crispy bits. And it's a generous serving, as always in our house.
If this simple dish makes your life a bit easier then I've at least helped a bit to make your lockdown slightly less stressful.
This recipe will appear on Lucy Loves later this week.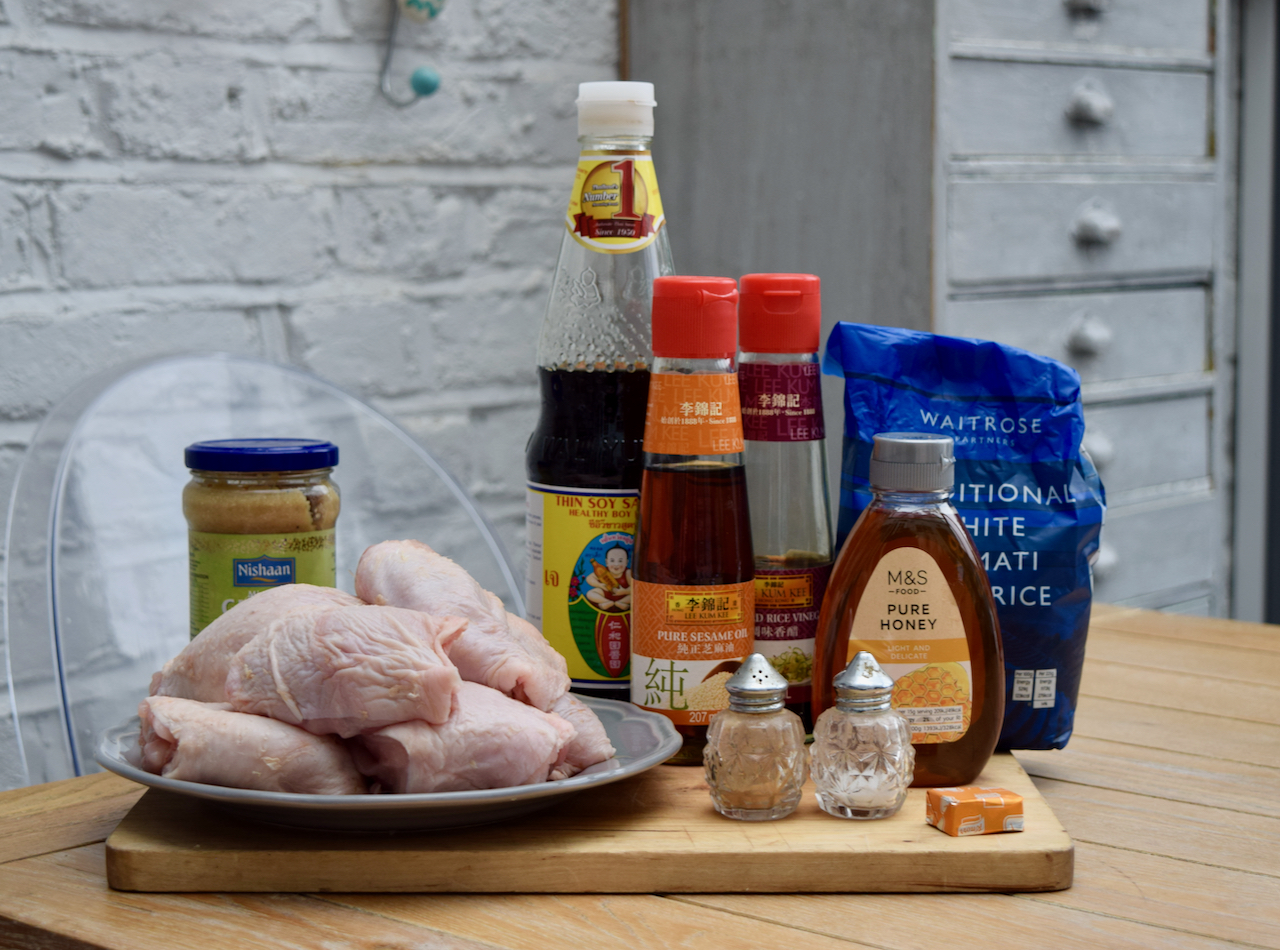 Honey and Soy One Pot Chicken recipe
Serves 4 hungry people
You will just need a casserole dish or lidded pan
8 chicken thighs, bone in, skin on
80ml runny honey
80ml soy, a light one is best here
1 tablespoon rice wine vinegar
1 tablespoons sesame oil
1 tablespoon crushed garlic, fresh or from a jar
1 tablespoon grated ginger, fresh or from a jar
2 tablespoons oil, I used wok oil
300g rice, I used basmati
500ml chicken stock
Salt and pepper
Green vegetable to serve, chopped coriander to garnish
Pre heat your oven to 170 degrees fan assisted.
Take a large food bag and measure in the honey, soy, vinegar and sesame oil. Add the garlic and ginger and squidge the whole lot together to mix. Put the chicken thighs into the bag and mix around to ensure the chicken is well covered. Leave to marinate in the fridge for at least 2 hours or longer if you have the time.
When the time's up, pop your casserole dish onto the hob and heat over a medium flame with a splash of oil. Place the marinated chicken thighs (throw away the marinade), skin side down into the hot pan and cook for around 3 minutes or until the skin's starting to crisp and brown. Keep an eye on the skin, the honey will burn in the hot pan, so turn the heat down accordingly. Turn the chicken over and cook for another couple of minutes before removing to a plate. Finish browning the rest of the chicken.
Turn the heat down to low and tip in the rice. Stir well to coat in the pan juices and cook for a minute. Pour in the chicken stock, stir well again and bring up to the simmer. Season with a tiny bit of salt and plenty of black pepper. Place the browned chicken thighs on top of the rice, pop a lid on and place into your pre heated oven for around 35 minutes by which time the chicken will be cooked through and the rice tender.
Remove the lid and put back in the oven for a final 5 minutes to brown the skin. Serve with a green vegetable of your choice, scattered with some fresh coriander.