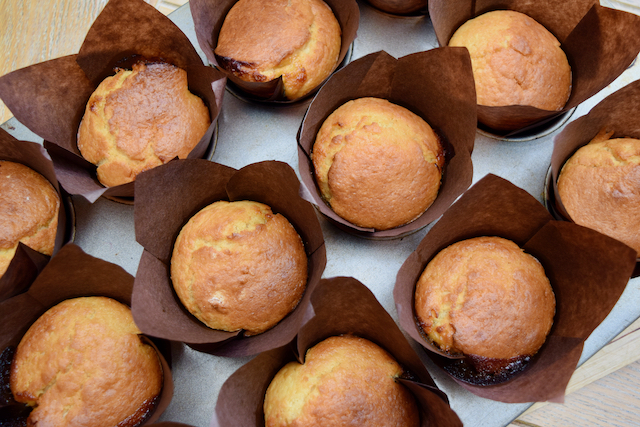 Does the top shelf of your fridge look like mine? Picture this if you will; row upon row of jars in various shapes and sizes. I have every condiment you can imagine up there: mint sauce, mint jelly, horseradish, sambal oelek, lazy garlic and ginger and jam in every flavour you could possibly imagine. And always lemon curd. I love it on toast, on Greek yoghurt and from the jar with a spoon. So, to stop me from doing the latter, today I made these Lemon Curd Muffins. If nothing else, this recipe is a delicious way to make a little more space on the top shelf of your fridge.
Muffins, to me, are a slightly healthier relative of the cupcake. I have no real foundation for this belief other than they are offered as an acceptable breakfast bake and often contain fruit. These wonderful River Cottage inspired Lemon Curd Muffins are no exception to my own made up rule. They contain fruit and yoghurt making them almost certainly just a step up from a bowl of granola and they taste amazing. With lemon zest for tang and a dollop of lemon curd for luck, these are soft, *eek* moist but not too sweet. With no need for the mixer, these are just a two bowl affair and ready to nibble in less than 45 minutes.
If you're looking for something fresh and delicious to get you up in the morning or keep you going throughout the afternoon, then a Lemon Curd Muffin is the way forward. And as a bonus point, you will have one less jar on the top shelf of your fridge, so these really are a win win bake.
This post will feature on Lucy Loves later this week.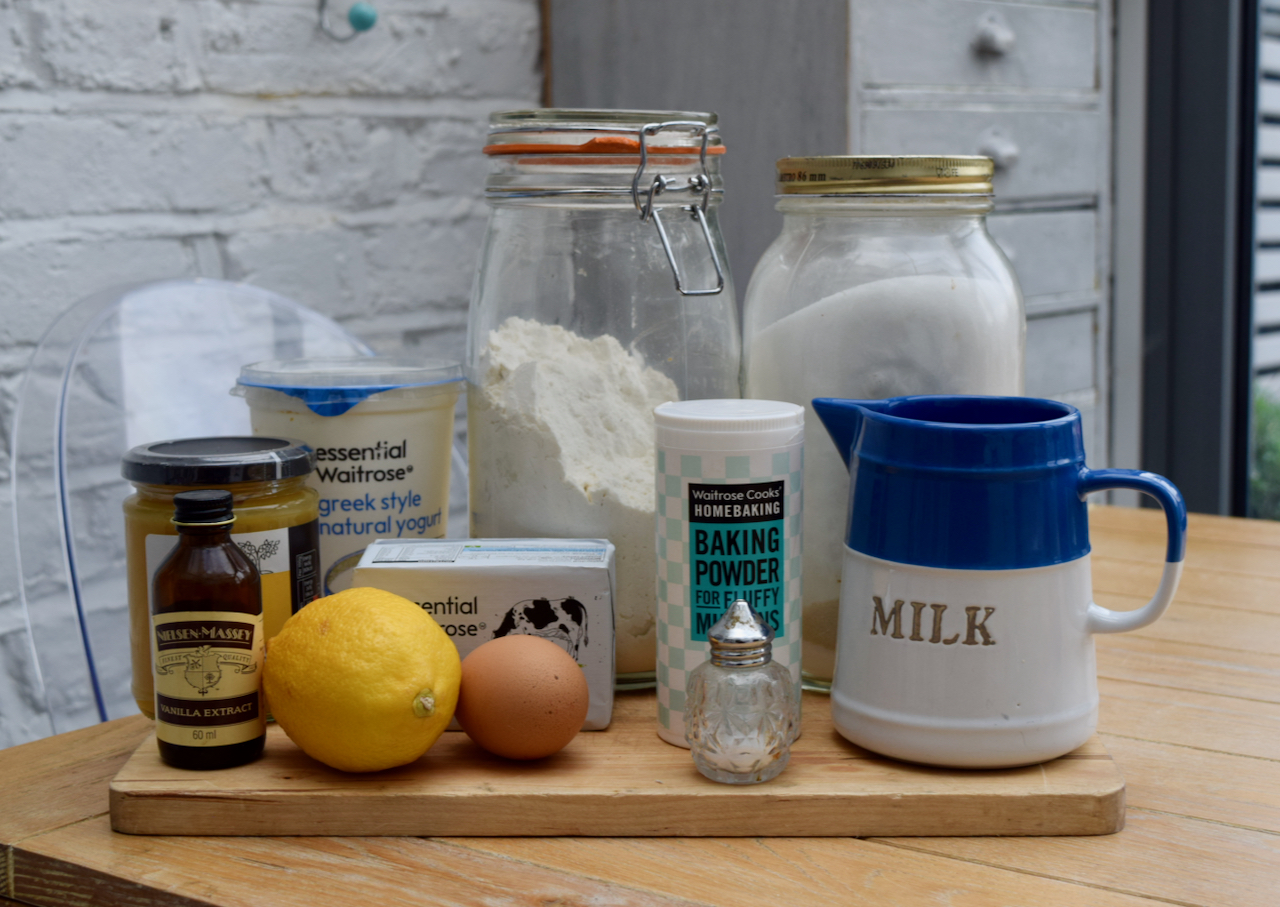 Lemon Curd Muffins Recipe
Makes 12
You will just need bowls for this recipe and a 12 hole muffin tin, with liners
225g plain flour
2 teaspoons baking powder
A good pinch of salt
100g caster sugar
Grated zest of a lemon
1 medium egg
125g plain yoghurt, I used Greek yoghurt
125ml milk, whole is best if you have it
75g butter, melted and cooled a little
1 teaspoon vanilla extract
12 teaspoons lemon curd
Line your 12 hole muffin tin with muffin cases and pre heat the oven to 160 degrees fan assisted.
Take a large bowl and measure in the flour, baking powder, salt, caster sugar and lemon zest. Give this a little mix and pop to one side.
Melt the butter in the microwave or in a small pan on the stove then leave to cool. In a large jug measure in the milk, yoghurt, egg, vanilla and cooled melted butter. Whisk until smooth then fold this, gently, into the flour and sugar mix. Don't over mix this, just fold together until you can no longer see any flour.
Add a scant tablespoon of this mixture into the bottom of each muffin case. Spoon a teaspoon of lemon curd on top of the mixture then cover with a final tablespoon of muffins batter.
Bake for 25 to 30 minutes or until the muffins are golden, risen, firm to the touch and smelling wonderful.
Allow to cool for as long as you can bear to wait, then devour with a cup of something warming.