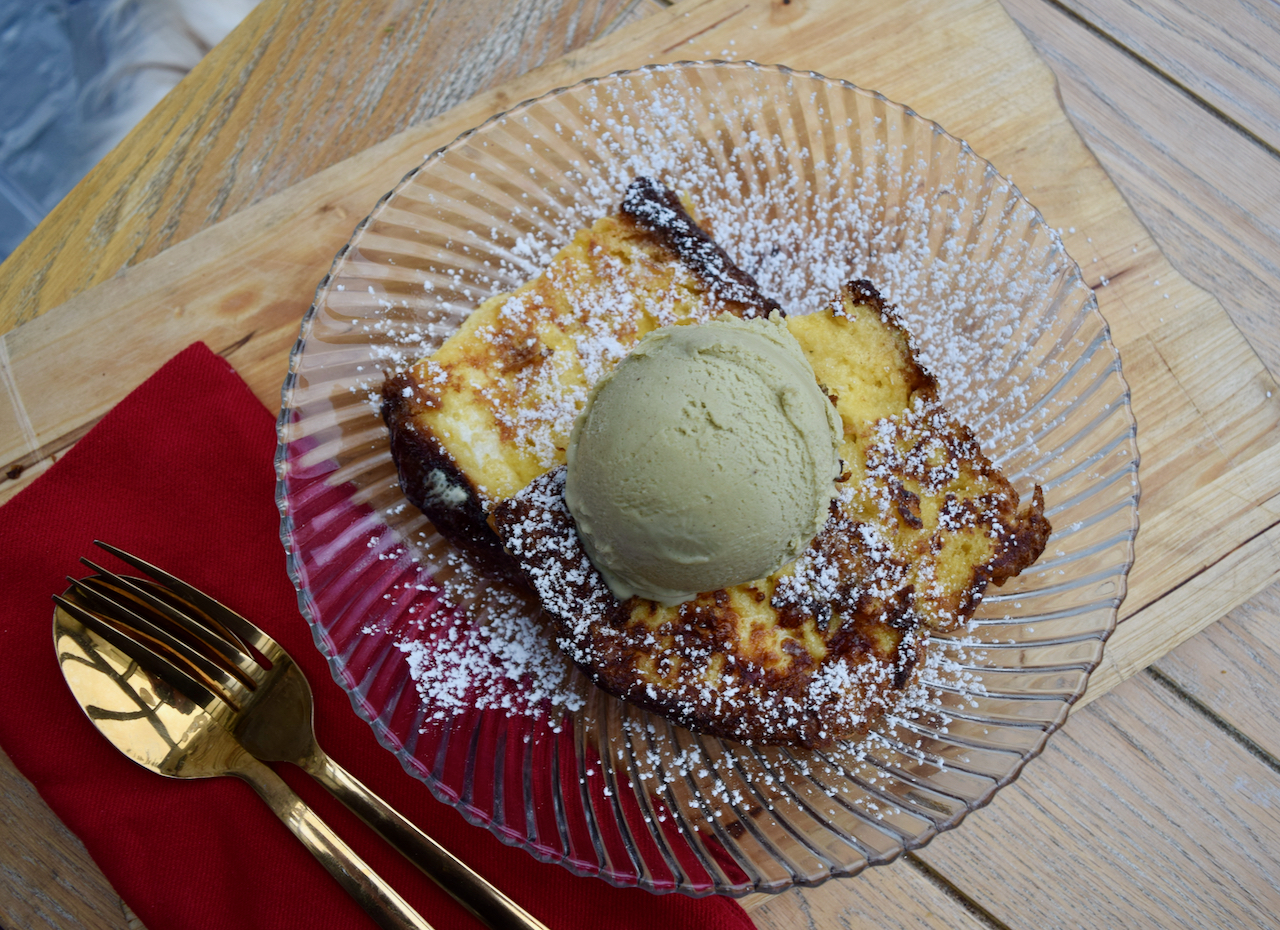 Panettone Pain Perdu recipe
This week I'm truly embracing Christmas. For me, Panettone and the festive season are the best of friends and I love, love, love it. We are so lucky to have the wonderful Gelatorino on our doorstep who sell the most beautiful Panettone, literally 5 minutes from our house. Theirs is made using a traditional recipe with simple ingredients which give it that distinctive and unmistakable flavour and softness. I used their pistachio variety for my Panettone Pain Perdu *posh French toast* and served it with a truly divine scoop of Gelatorino's pistachio gelato. Lucky, lucky me.
Gelatorino's Panettone really needs nothing more than a big knife to cut it into soft, fragrant slices, however, if you do have a couple of pieces left, then Pain Perdu is the way forward. Pain Perdu is French for 'lost bread'; my panettone was anything but lost, but with most of it heading towards my stomach I did think I should share it with my family. This brilliant dish can be breakfast or dessert, you decide. Serve it with some divine gelato, or if it's breakfast and you feel you'll be judged for eating ice cream before midday, then go for a drizzle of maple syrup and some fruit. Just whisk milk, eggs and vanilla, dip your panettone, fry briefly in butter and it's ready for inhaling.
Time is in short supply over Christmas so this recipe may well be the dream gift.
All the information you need about buying your Panettone, gelato, artisan pastas, honey, jams, sauces and much more are available at the Gelatorino website.
Panettone Pain Perdu recipe
Serves 2
You will just need a pan for this
2 thick slices Panettone, cut into 2 if large
2 eggs
90ml milk
1/2 teaspoon vanilla extract
a pinch salt
A generous slice of butter for frying
Icing sugar to dust
Ice cream to serve, or if serving for breakfast, maple syrup and fruit if you like
Take a large plate and pour in the milk, eggs, vanilla extract and the pinch of salt. Whisk to combine.
Slice your panettone thickly and then cut in half if the slices are long. Take a heavy bottomed frying pan and add the butter. Heat over a medium high heat until sizzling. Dip the panettone briefly into the custard mixture on both sides.
Carefully place the soaked panettone into the hot pan and cook for 1 to 2 minutes on each side or until golden and smelling divine.
Serve, piping hot, dusted with icing sugar with a scoop of wonderful ice cream. If your Panettone Pain Perdu is breakfast, drizzle with maple syrup and dot with some fruit of your choice.