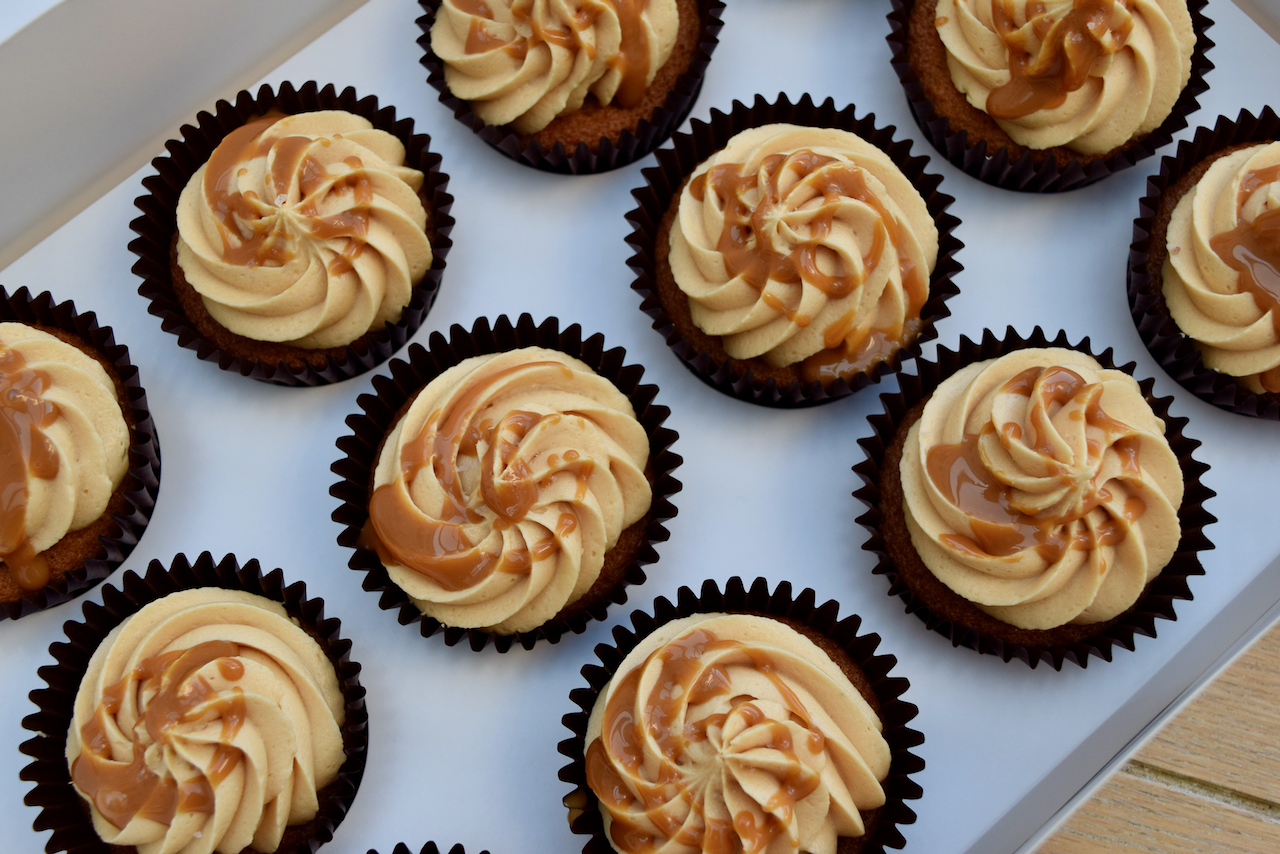 Salted Caramel Cupcakes Recipe
Cupcakes are brilliant. They're easy, a mouthful of deliciousness and if you can get hold of the flour, quick to make. If you've got youngsters back to home schooling this week, these Salted Caramel Cupcakes would make a great lesson in baking. And after the lesson, you will benefit from 12 soft, caramel prizes; if you can wrestle them from the hands of your children.
This recipe originated when I made a large cake version of these for a very sweet toothed client at work. She loves caramel more than life itself and who can blame her. The cakes are made with light brown sugar which gives them a rich flavour and colour. The buttercream is flavoured with vanilla and bolstered with generous dollops of Carnation Caramel and you, if you're anything like me, will have to show an iron will not to eat it all straight from the mixer. The elegant looking cakes are then made even more wonderful with an additional drizzle of caramel and just a tiny flake or salt. You can pipe these for extra showoffiness or just slather the buttercream on with a knife.
These Salted Caramel Cupcakes can be made as a socially distant gift for loved ones. Or make staying at home much more appealing by eating them yourself.
This recipe will feature on Lucy Loves later this week.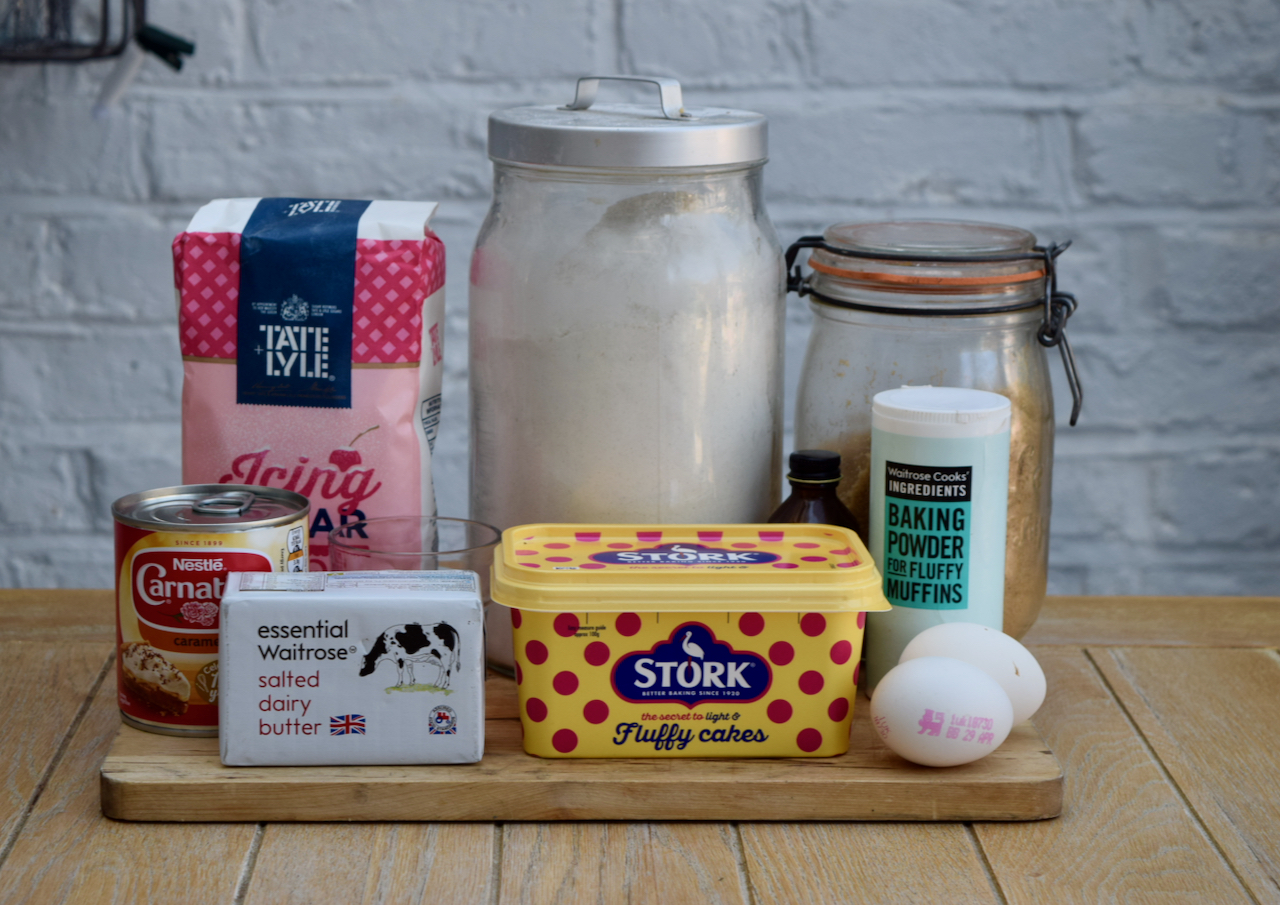 Salted Caramel Cupcakes Recipe
Makes 12
You will need a stand mixer or a bowl with a whisk or wooden spoon and a 12 hole muffin tin lined with cases
Cakes
125g Stork or soft butter
125g soft light brown sugar
1 teaspoon vanilla extract
2 eggs
125g self raising flour
1/2 teaspoon baking powder
2 tablespoons milk
Caramel Buttercream
150g soft butter
300g icing sugar
1 teaspoon vanilla
3 heaped tablespoons Carnation Caramel or dulce de leche
A further couple of tablespoons of caramel for decoration and tiny pinches of sea salt or Himalayan pink salt
Pre heat your oven to 150 degrees fan assisted and line your muffin tin with muffin papers.
In your stand mixer or in a bowl with a whisk or wooden spoon, beat the Stork or soft butter with the soft brown sugar until light and fluffy. Add the eggs and vanilla and beat again until well mixed.
Fold in the flour and baking powder until you have a smooth batter then finally mix in the milk to loosen it off slightly. Put a tablespoon of mixture into each case, scraping the bowl to use every last bit. Place them in your pre heated oven for around 15 to 20 minutes or until the cakes are golden, firm to the touch and a skewer comes out clean when poked in the middle.
Leave the cakes to cool on a wire rack while you make the buttercream. In your stand mixer again or a bowl with hand whisk or wooden spoon beat the soft butter and a third of the icing sugar (this will stop you covering your kitchen in a cloud of icing sugar). Continue with the other two batches until you have a stiff butter cream. Add the vanilla and three tablespoons of caramel and beat again until smooth.
If you like, add the buttercream to a piping bag and pipe swirls onto the cooled cakes. If you don't have a piping bag, smooth on with a palette or butter knife. Give a tablespoon of caramel a good stir to loosen then drizzle on top of each cake. Add a tiny sprinkle of sea or pink Himalayan salt on top of each cake.
Devour or keep in an airtight tin for around 3 to 4 days.