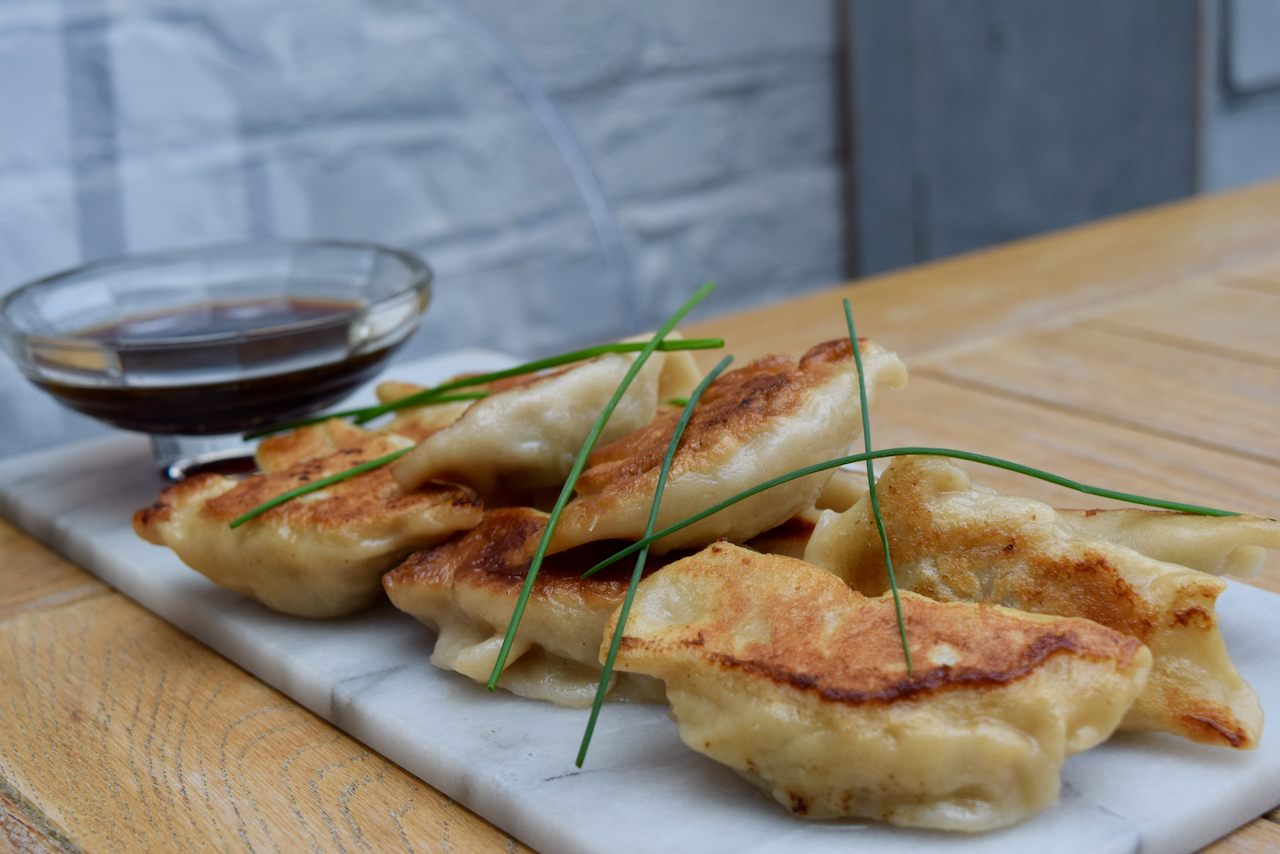 Simple Pork Dumplings Recipe
I love a dumpling. I have spent years ordering them from takeaways or buying them frozen from the oriental supermarket, safe in the knowledge they were far too much of a kerfuffle to make myself. Well I wished I hadn't waited 49 bloody years to try. These Simple Pork Dumplings are, as the name suggests, simple. I'm not saying they don't take a modicum of effort, but the super tasty results are well worth an hour of anyone's valuable time.
Reasons I have been put off making dumplings in the past are a) couldn't be arsed to go and buy dumpling wrappers b) I don't have a steamer basket and c) fear of cocking them right up. My fears were unfounded, however, as you don't need to buy wrappers as the pastry is simply flour and boiling water. These dumplings are lightly browned before being steamed in a lidded frying pan, so no need for any special equipment. And finally, I did cock up a couple of them, but it really doesn't matter. Mine were never going to look like shop bought ones, but I don't care. They taste so amazing, even if the dumpling bursts or looks a little rustic, who bloody cares. You guests won't; they'll just wish you had made a second batch.
I love finding a recipe which is achievable. I hate drama in the kitchen because a certain difficult teenager creates enough in the rest of the house. These Simple Pork Dumplings really are simple, I wouldn't lie to you, because you'd probably tell me off if I was, and I would hate for us to fall out.
This post will feature on Lucy Loves this week.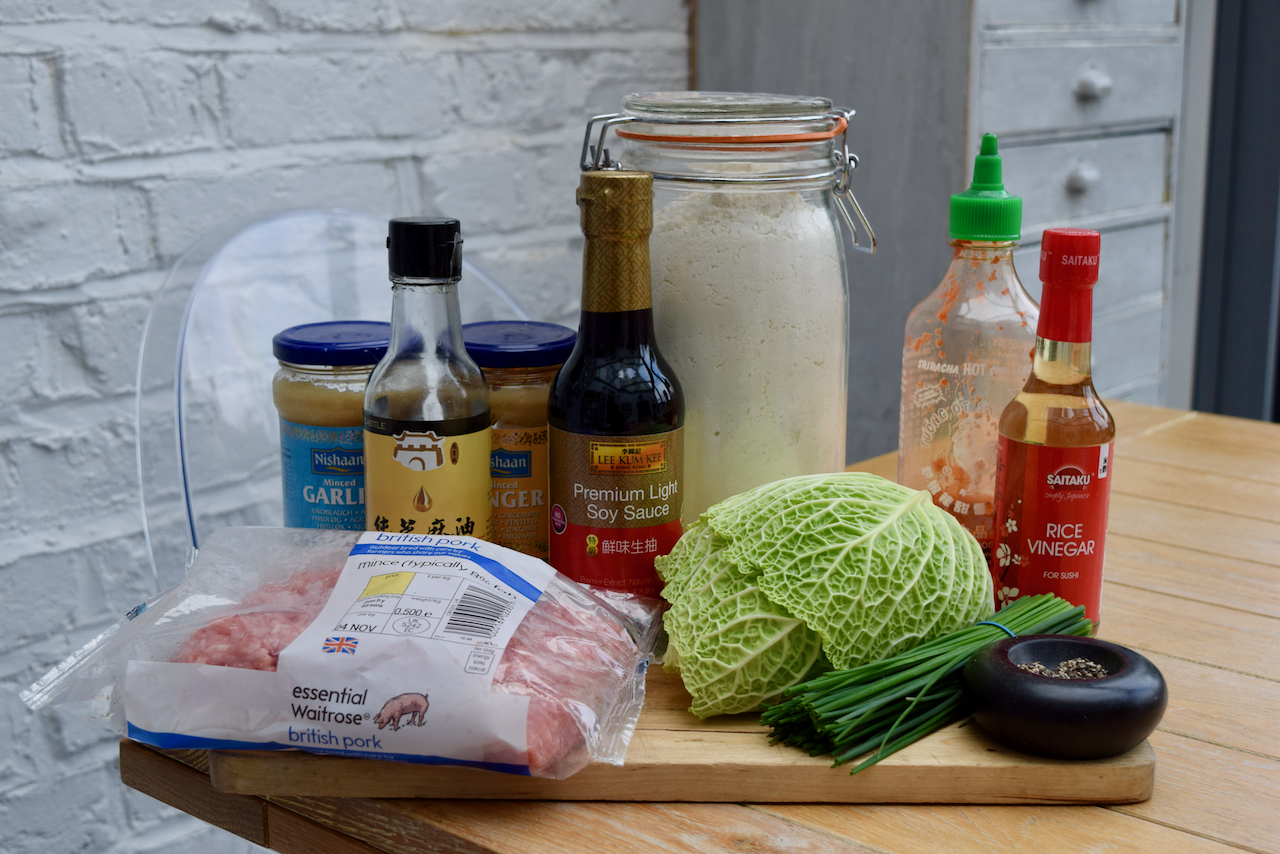 Simple Pork Dumplings Recipe
Makes 12
You will just need bowls and pans for this
Dumplings
175g plain flour
175ml boiling water
300g pork mince
50g cabbage, finely chopped, this is around 3 leaves
1 tablespoon chopped chives
1 heaped teaspoon chopped fresh or lazy ginger
1 teaspoon crushed garlic or lazy garlic
1 tablespoon soy sauce
1 tablespoon sesame oil
A good grinding/pinch black pepper
Oil for frying
Dipping Sauce
60ml soy sauce
60ml rice vinegar
1/2 tablespoon sriracha or other chilli garlic sauce
1 teaspoon sesame oil
Fresh chives to garnish
Make a start by making the pastry. Take a small bowl and measure in the plain flour. Pour on the 175ml boiling water from the kettle and stir until you have a soft dough. Turn out onto a floured board, and making sure it's cool enough to handle, give it a good knead for a couple of minutes. Pop back into the bowl and leave to rest, covered, while you get on with the rest of the recipe.
For the dipping sauce whisk together the soy, rice vinegar, sriracha and sesame oil. Pop into a bowl for later.
For the dumpling filling take a large bowl and measure in the pork mince. Add the garlic, ginger, pepper, soy and sesame oil. Remove the thick stem bit from the middle of the cabbage leaves then roll up and thinly slice. Add this to the mince with the chopped chives. Mix well until thoroughly combined.
For the dumplings, flour your work surface and divide the rested dough into 12 equal-ish pieces. Roll into 12 circles, around 9cms in diameter. You could use a cutter for this, but rough circles is fine. Dot some water with your finger around the edge of each circle then spoon on a heaped teaspoon of the pork filling. Fold over to create a semi circle and press around the filling and seal the edges. Make 4 little pleats around the edge of the dumpling to create the traditional shape. Place on a plate and repeat with the other 11 dumplings. You may have some leftover filling. Pop this into a bag and freeze for next time.
Heat a large lidded frying pan over a medium high heat with a good tablespoon of oil in it. Add 6 of the dumplings, flat side down, and cook for a couple of minutes or until golden on the bottom. Pour around 125ml of water into the pan then pop on the lid to steam the dumplings for a further 5 minutes. Take the lid off and cook for a further minute or until the water has evaporated. Place on a plate and keep warm while you repeat with the rest of the dumplings.
Serve them, piping hot, garnished with some chives with plenty of the soy dipping sauce.
You can reheat any leftovers the next day, but I don't suppose they'll last that long.