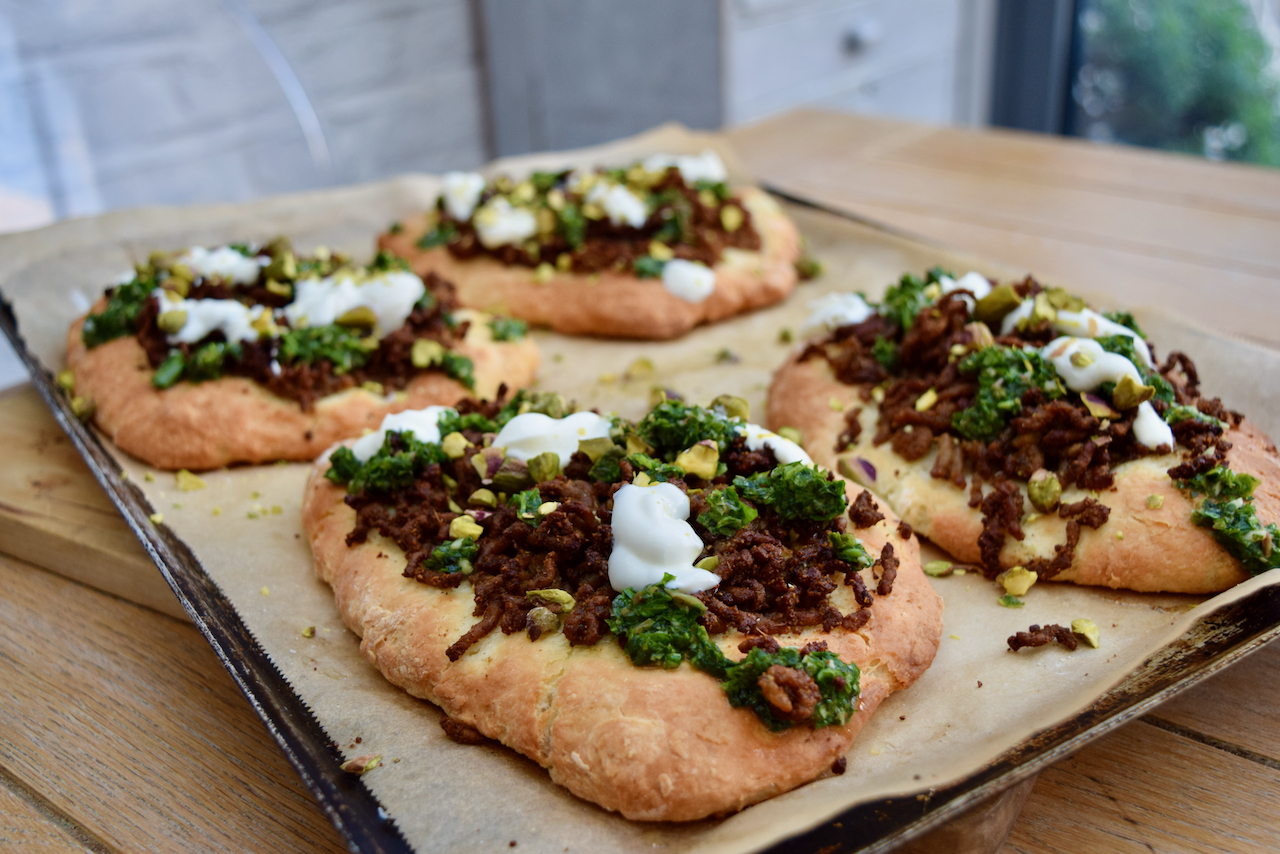 Quick Spiced Lamb Flatbreads recipe
Since I discovered the amazing dough involved in making these Two Ingredient Bagels I have been toying with the idea of using them to fashion some sort of delicious main course. It's so simple, quick and well, doughy, I felt sure they'd make brilliant savoury flatbreads. In true Lucy Loves style, I went on a freezer forage, found a packet of lamb mince, and lo, Quick Spiced Lamb Flatbreads were born.
I love lamb. It's usually reserved for Sundays and in the form of a huge roast, in our house, however, lamb mince is a less dramatic, tons cheaper way to enjoy our favourite meat. This recipe is, like it says, quick, but also full of flavour, whilst looking as if you've gone to loads more trouble than you actually have. The lamb mince is briefly fried off with some garlic and cumin and the herb pesto is a simple whizzing together of herbs, oil and garlic. The flatbread, as I mentioned, is just yoghurt and self raising flour which creates a tasty base for the spiced lamb. These beauties can be a substantial lunch, make them smaller for an interesting first course or make one big one to share and tear at the table.
I bloody love a something out of nothing dish. And these lamb flatbreads really are quite something.
This post will feature on Lucy Loves later on this week.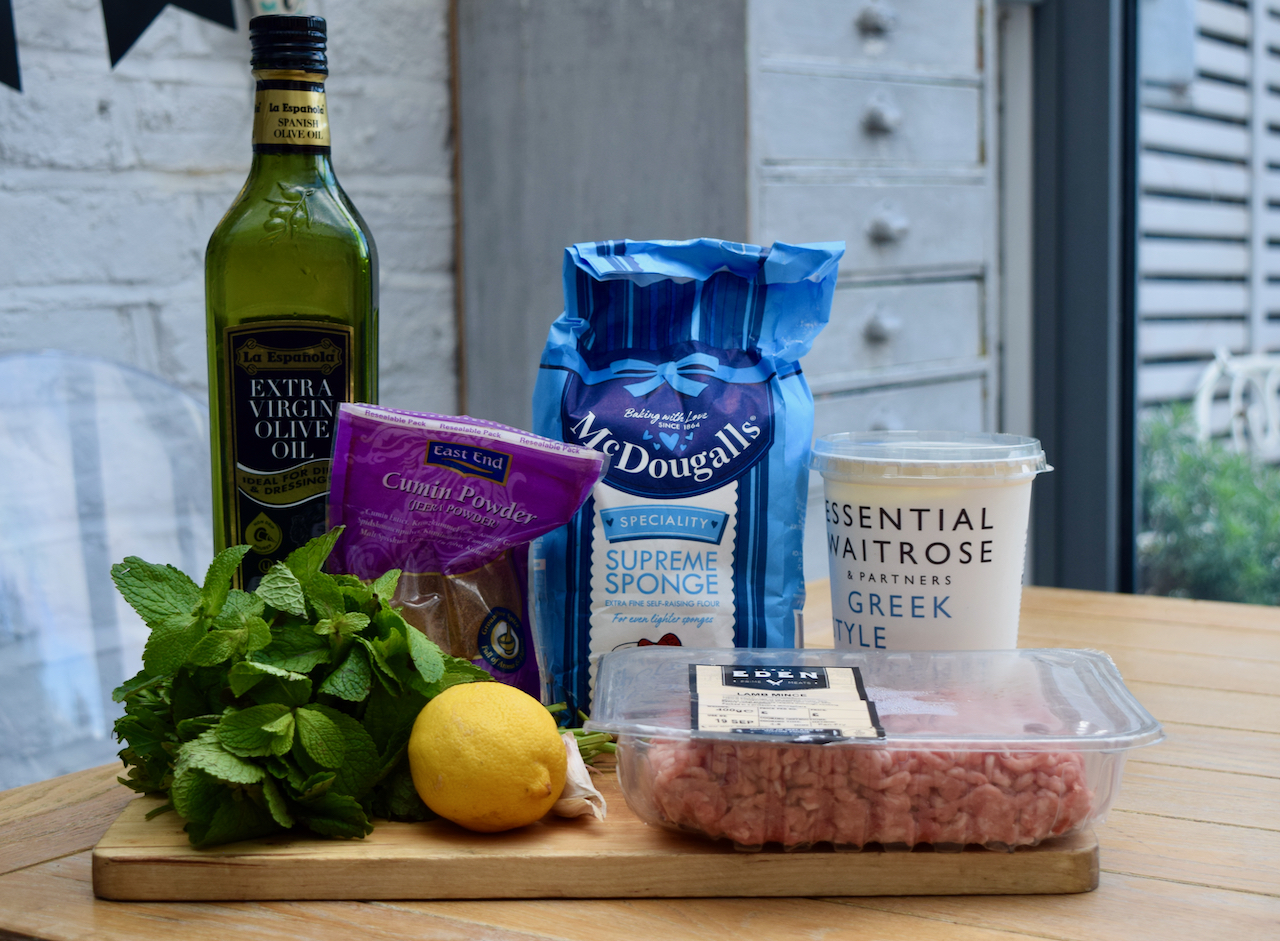 Quick Spiced Lamb Flatbreads recipe
Serves 4 hungry people
You will just need bowls and pans for this
Flatbreads
330g self raising flour, plus extra for dusting
355g Greek yoghurt
Pesto
3/4 small bunch parsley, stalks removed
1 small bunch mint, stalks removed
60ml olive oil
2 tablespoons lemon juice
1 clove garlic
Salt and pepper
Lamb
400g minced lamb
2 tablespoons cumin
1 large, or 2 smaller cloves garlic, finely chopped
Generous amounts of salt and pepper
A drizzle olive oil
Greek yoghurt, chopped pistachios, fresh mint, sea salt and a drizzle of olive oil to serve
Pre heat your oven to 170 degrees fan assisted and line a large baking sheet with grease proof paper.
Make a start with the pesto. Add the parsley, mint, olive oil, lemon juice and garlic to a small chopper, blender or pestle and mortar. Mix well until you have a thick pesto like consistency. Season to taste then pop to one side.
For the lamb, heat a dry frying pan over a medium to high flame and sauté with the garlic and cumin until it's just starting to turn golden, around 4 to 5 minutes. Season generously with salt and pepper, to taste. Turn off the heat and leave for a moment.
For the flat breads, take a large bowl and measure in the yoghurt and the flour, mix until you have soft dough then turn out onto a floured work surface and knead to bring the dough together. Divide the dough into 4 pieces and flatten each one into a rough flatbread sort of shape. Place these on your lined baking sheet.
Spoon the spiced lamb mixture onto each flatbread, pressing it into the dough a little. Drizzle with some olive oil then bake in the pre heated oven for 15 to 20 minutes or until the flatbreads are golden and the lamb is sizzling.
Drizzle the herb pesto over each flatbread, blob on some Greek yoghurt, scatter the chopped pistachios and sprinkle over some flaky sea salt.
Serve whilst hot and feel warm and satisfied.